Pool Extension – Update
The works near Boston, Lincolnshire to construct a new private pool house and associated area is progressing well.
The main basement construction challenges were presented by the poor ground conditions and high-water table. To overcome these challenges well pointing dewatering was commissioned to lower the water table in the site area. This enabled us to safely excavate for the pool basement works.
Interlocking sheet piles were installed as temporary formwork to support the poor load-bearing soils whilst we constructed the basement.
Some 20 tonnes of steel reinforcement were used in the main pool construction. Heavily braced temporary timber formwork was used to create the basement slab and pool walls which were formed using pumped concrete.
The new structural steel frame sits perfectly supported from the basement walls. The newly insulated beam and block floors have been placed and the secondary main pool shell structure is underway.
The bricklayers have now started on the garage block, they will then move onto the main pool house when the pool shell formworks are struck.
We have successfully completed the installation of the new ground source heat pump main, PV supplies and drainage. The trenchworks are now back filled to regain a tidy site and safe working environment.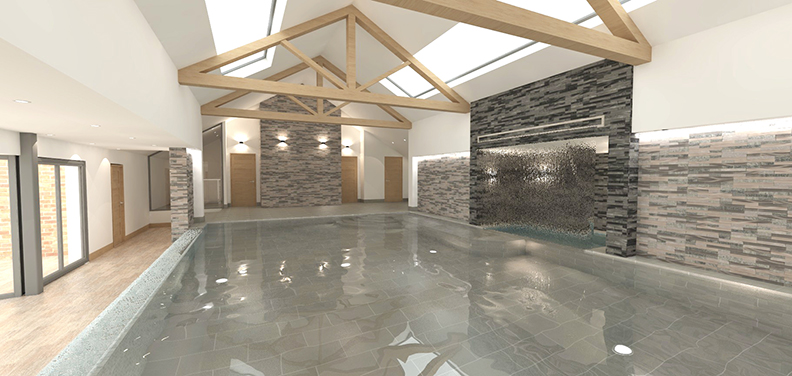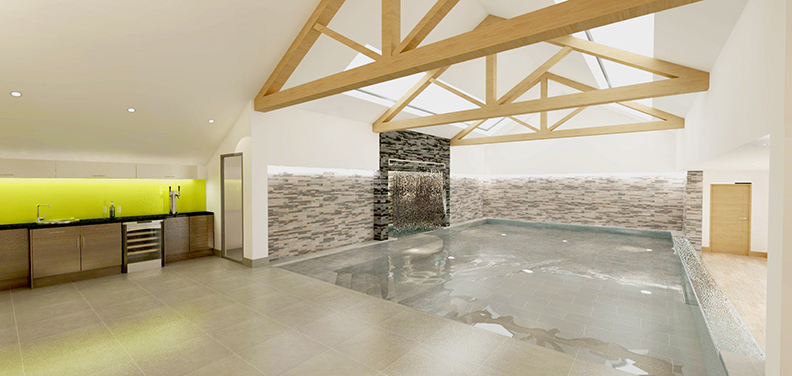 *The above images are architects visuals