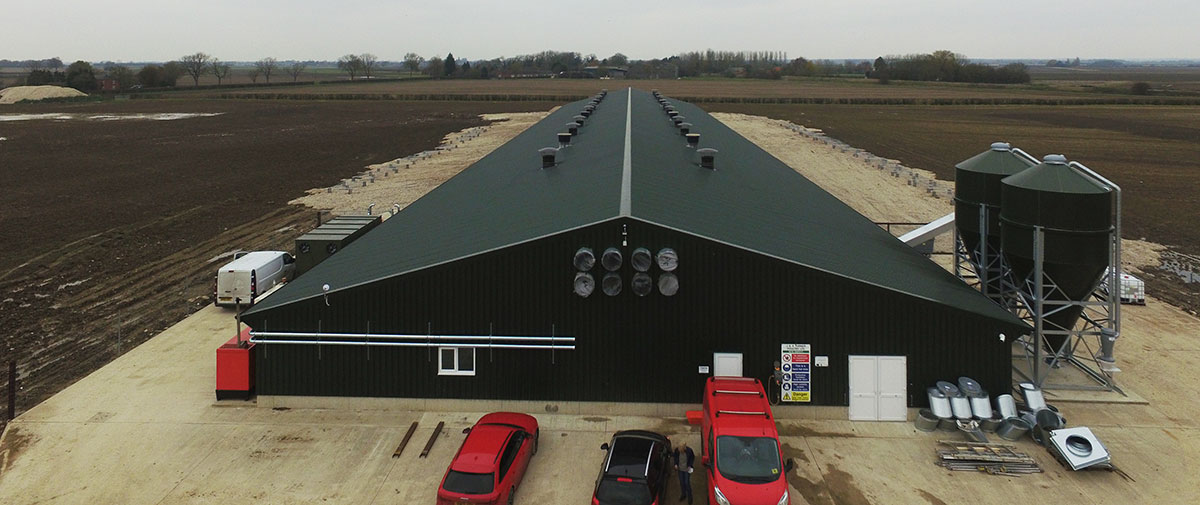 Thornton Park Farm
Positioned perfectly in the Lincolnshire countryside. Clarke Group have recently completed the construction of this 24m x 110m, 32,000 bird Free Range laying unit.
Having spent time with Jim discussing his requirements and future expansion plans, a design and layout was finalised to house his brand-new Big Dutchman Natura 284.
Patience was key when ensuring the unit complied to the most up to date welfare standards; calculating the exact meterage of pop hole space and ensuring they were equally spread to accommodate each 4,000-bird colony.
Jim's new unit is one of the very first in the UK to use a ground source heat pump to improve bird welfare, production and litter quality.
The system provides a filtered fresh air supply at the front of the house which is heated or cooled using a GeoCube heat pump to maintain a consistent air temperature regardless of the outside temperature. The air is distributed down the shed, allowing for an even air and temperature distribution.
Clarke Group Features

Clear span CE marked steel frame
Juniper Green external cladding to blend naturally with the countryside surroundings
Insulated catching & pop hole doors manufactured in the same RAL Colour as the unit
Detached steel frame building to permanently house the muck trailer
Shared design to incorporate egg packer, nests and ventilation into one set of working drawings