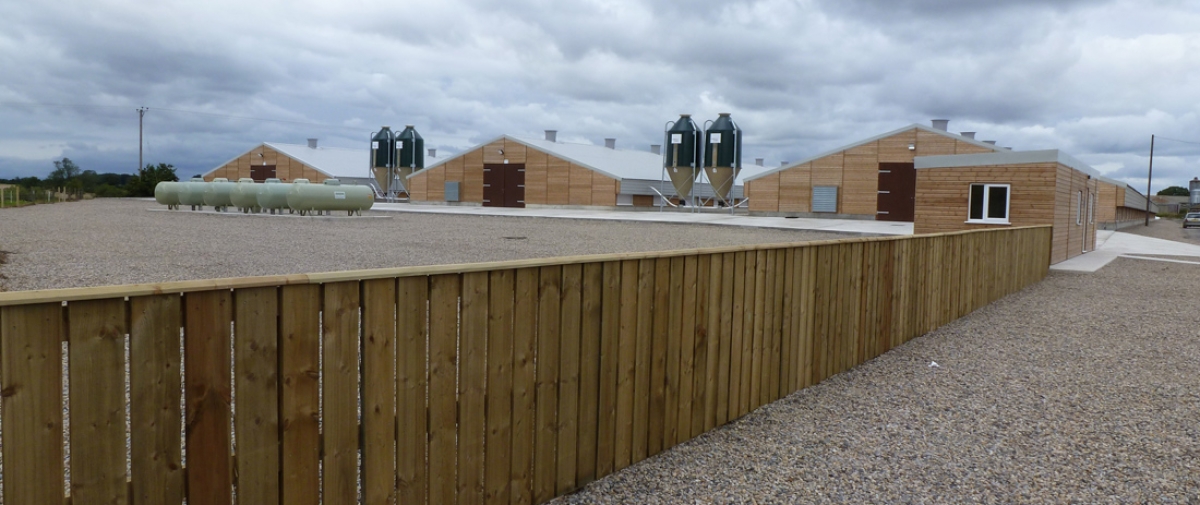 Sheardown Poultry Farm Case Study
This scheme comprised the construction of a clear span steel framed poultry building together with infrastructure works, service buildings and attenuation ponds.
NOTABLE FEATURES
| Feature | Details |
| --- | --- |
| Clear Span | Housing 48,000 (max stock density) birds per crop cycle |
| Ventilation | Offset ridge and side ventilation optimising the bird environment |
| Hygiene | Gradient slabs, polyester flat sheet cladding and wash out diverter facilities |
| Airtightness | Pressure and smoke tested building achieving the design brief |
| U Values | Minimum heat loss and reduced building running costs due to efficient design |
| Refurbishment | Full refurbishment of exisiting poultry shed to suit the requirements of the market |
DESIGN
Fully designed by experienced team (in house)
Proven clear span design adapted to ensure efficiency of construction
Exacting requirements incorporated to meet the customers needs
CONSTRUCTION
Competent site management ensuring the project was delivered to suit the clients key dates
Incorporation of our off-site manufactured timber framed panel system bringing both programme and cost benefits.
Proactive and excellent Health & Safety Management resulting in no reportable accidents.
CLIENT
LOCATION
Green Lane Farm, Orston, Nottinghamshire
BRIEF
Design & Construction 380ft x 66ft Broiler Poultry Unit together with refurbishment of existing shed.